Here's what people think of our walks
We've been so fortunate to talk so many hundreds of people on tours of our city over the years. Here's what a handful of our new friends have had to say about their time out exploring with CalgaryWalks.
Hi Scott. I just wanted to thank you again for the excellent tour of downtown Calgary you gave me yesterday (Wednesday). It was definitely the highlight of my trip. I added a glowing review to TripAdvisor!
Some feedback on my walking tour of Calgary on Thu, 18 September.
I enjoyed the guided tour immensely. A great guide and another tax officer, just how you managed to pair up an IRS (US) officer and a retired Australian Tax Officer was uncanny.
I found the walk very interesting, very informative, relaxing and a real treat. I took your advice and revisited the Juame Plensa sculpture "Wonderland" that evening and got some spectacular shots.
I thoroughly recommend your walks to anyone who wants an intimate, leisurely and enjoyable look at Calgary.
I hope to be back your way in 2016 and I will certainly catch up for another tour.
"We enjoyed the walks with Scott and Joanne very much. Specially because they were very enthusiastic guides and you can hear in their stories, they love their city.
Our compliments!
We do hope you will organize these walks again next year."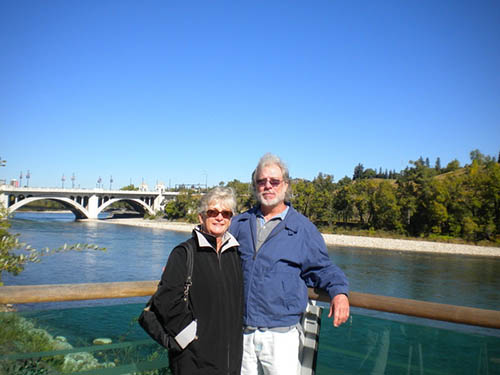 "We very much enjoyed our Calgary Walk with Joanne.  It was the first day of our vacation which included a few days in Calgary, Banff, Lake Louise and a trip on the Rockymountaineer train over the mountains to Vancouver.  This was our first visit to Calgary and our morning walk around the downtown area was a terrific way to start.  It gave us an understanding of the area that enriched our time there.  Joanne is charming and informative.  I would recommend her walking tours to anyone visiting your city."
"Thanks you so much for the wonderful tour of Calgary. You really brought the city to life for us both,it was especially nice to see the the Bow building which you were so familiar with. I didn't realize that there was so much art work in all the buildings and of course the flowers were magnificent. We hope that we can see you again."
"I went on the walking tour with a small group and Scott as our guide. I would highly recommend this tour as Scott was extremely knowledgable and delivered the information in an interesting way. He was also eager to answer any of the groups questions and was mindful of our needs.
Thank you for one of the best tours I've been on!
Wendy (Australia)"
I really enjoyed the walk and saw many things I would never have discovered on my own. It was a great time! you did a great job!
"Hi Scott,
Just wanted to say thank you once again for an amazing, fun tour this past Monday morning[…] I learned so much about Calgary, cleared up any preconceived misconceptions and thoroughly enjoyed how well-executed, well-paced and candid the tour was. Having had such a pleasant experience, I asked the YYC gate agent upon my departure back to Toronto, "Do I really have to go?"
I cannot wait to come back in the near future and would recommend this tour to anyone visiting your lovely city."
"Hi Scott
Just to say thank you for an excellent tour last week – we really enjoyed it and will definitely recommend you to any friends / family heading your way! I particularly liked the Plus 15's, as I would never have guessed that these were open to the public – the Japanese garden was amazing… I did not expect a "cowboy town" to have such sophisticated art!
…I'm already looking forward to a return visit!"
"Hi Scott. Back home in Cambridge, UK. Thanks again for a most informative and enjoyable tour of your city on 10 May 2014. The memory of those "horses" in Courthouse Park will stay with us for a long time. If you are ever thinking of visiting our part of the world, let us know and we'll get some information to you of what we think would be of interest. Thanks once more."
"I just wanted to thank you again for setting up this tour. It was amazing. Scott is full of knowledge and we had a wonderful time. It was very cold, but there were so many things to see so we were fighting the cold. If we would have walked around on our own we would not have known what to see and would probably missed 95% of what Calgary has to offer. I have recommended your tour to everyone I come across.
Thank you."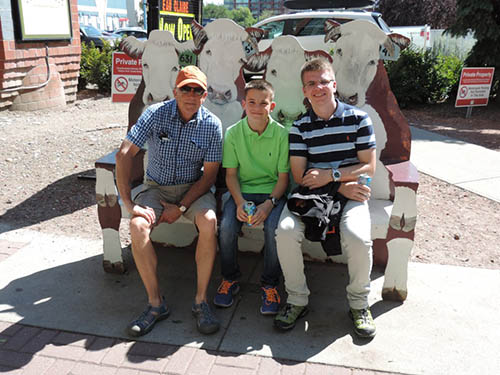 "Hi Scott,
back in Germany we often remember the walk through Calgary with you and your wife.
We enjoyed these two hours in Calgary and especially our two sons were impressed.
Thank you for your interesting walk and your descriptions."
"I just got home and yes we all had a wonderful time, Scott was amazing gave us lots of history about our city. Thoroughly enjoyed the tour. It was great that my guests from England were able to join us as well. Gypsy restaurant was also wonderful a very good recommendation from Scott."
"Just wanted you to know how delighted Eileen and I were with Scott's walking tour of downtown Calgary on Friday, September 27. It was a bit of a hike from the Airport Hilton Gardens –the 57 bus and C-Train — to get to City Hall, but it was well worth the effort.
Scott really knows his way around downtown and has an excellent grasp of Calgary history, culture, geography and architecture. We particularly enjoyed the "Plus 15″ passage ways connecting the large downtown office towers. Please send our best to Scott and let him know he did a super job."
"Shelly was great!! We certainly enjoyed the walking tour today!!!
Thanks a lot!!!"
"Thanks to Joanne!
Thank you for so graciously inviting us to join your tour last Friday morning. We had such a great time with you!
We did not have a ticket when we got back to our car. We moved to the 'five dollar Friday' parking structure north of the Suncor building and spent the rest of the day in Calgary. We did the Calgary Tour, rode the light rail to the library to see where Bill's uncle had lived (it's now the parking lot of the Calgary Stampede!), rode the train back to see the galloping horses & Devonian Gardens. What a beautiful city you live in!
Thanks again for your hospitality!"
"I thoroughly enjoyed my City Walking Tour. It covered many interesting, out of the way sites and was very informative and fun. Calgary is such a lovely city and i am so glad that i decided to come a day early so i could enjoy downtown
Thanks again for the fun time."
"Oskar and I had a very good time with Joanne. She is an excellent interpreter and I would recommend my friends to see her for the tour if they were planned to travel to Calgary.
PS: Joanne is such a very good photographer, isn't she?"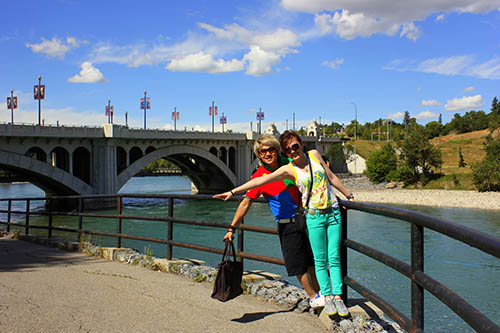 "During the summer, we always have guests from Europe. While I have lived in Calgary for 9 years by now, going on the walking tour of downtown Calgary was fabulous. So different from driving around! You see things you never saw before and actually have TIME to look and admire. Our tour guide Joanne was delightful and remembered all our names. Our tour group was small, only 6, which made it that much more personal and memorable.
I learned new things about my city and met wonderful guests from around the world.
I would strongly recommend this tour to everyone"
"I had the tour on Friday afternoon July 12th and literally loved it. I really wanted to thank you because I learned so much in awesome company. Many thanks for sharing all this knowledge.
You guys rock!"
"It was a very informative tour that we had with Scott. The walking tour provided us with a unique appreciation of Calgary's culture, history, architecture, and art. Without the tour, we could have seen Calgary in the same way. Scott was very friendly, professional, and knowledgeable. Indeed, we are very pleased with the tour and the fact that Calgary was able to recover quickly after the devastating floods."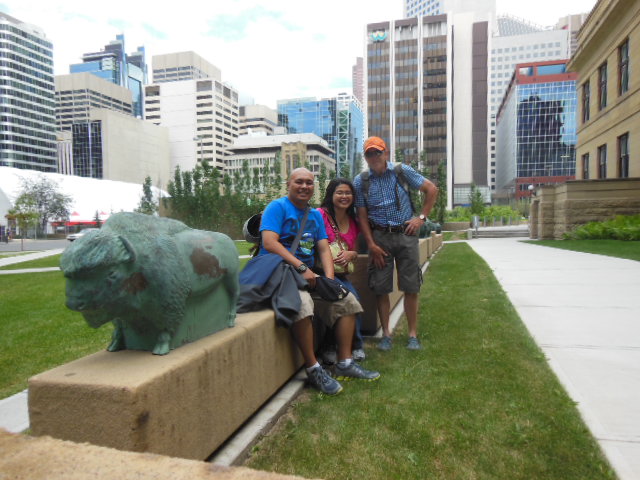 "Thanks for such an interesting and informative tour of Calgary. I learned so much about the town, it's history and what's going on now. I'm glad I didn't miss it. Scott is a great tour leader."
"Just a note to say Scott was fantastic this afternoon, very helpful and insightful – a great tour guide!"
"Just wanted you to know that I had a great time on the walking tour on Thursday. I learned a lot about the city and saw some wonderful art work as well. It certainly made my time in Calgary a lot more interesting. You are providing a terrific service to visitors with your walks. Far better than riding around in a bus!!! Thanks again."
"Tour guides Scott and Joanne from CalgaryWalks provide information and a wonderful experience as they take you on a walking tour of downtown Calgary to explore all the public art work that the city has to offer. I really enjoyed this tour and was impressed by Scott and Joanne's knowledge about the art that flourishes in this urban centre."
"Thanks so much for arranging the tour of Calgary with Shelley for us. We had a great time and we are so glad that we had a chance to see your town. Great job! Thanks"
"Hi Scott –
Kathy, Debbie, Kim and I really wanted to send our thanks for one of the many highlights in visiting your great city. The walking tour you provided our little group was such a treat and really helped us connect more with the city in a way we wouldn't have been able to with all of the other amazing things going on during Stampede. So, we got the best of everything Calgary had to offer – thanks to your insightful clip around Calgary. Months later we are still reminiscing about our time there!
Thank You!"
"We arrived in Calgary early September, mid-week, on a cold, overcast day with nothing special happening in Calgary. We really wondered if stopping here on our cross country tour to the west was worthwhile. Then we discovered Scott of Calgary Walks. In the 2 energizing hours we spent with him we learned more interesting history of the city, got oriented, discovered so many places including buildings, new areas, art exhibitions, gardens, bike paths, we wanted to explore that we definitely knew we had not allowed enough time for this city. We left loving Calgary, all thanks to Calgary Walks."
"Never having been to Calgary before, we found our walking tour of your lovely city a wonderful way to spend an afternoon. Our guide was very knowledgable and engaging. At the end of the tour he also made some good recommendations for further exploration, dining options and the like. Time well spent."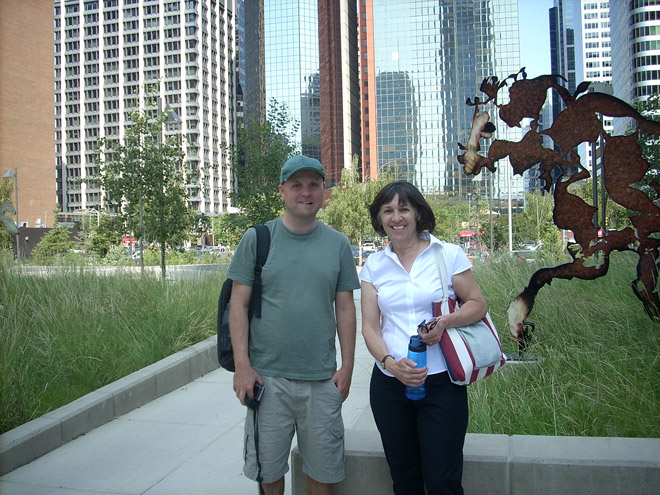 "In August 2012, I had the pleasure of joining a walking tour through Calgary organized by Calgary Walks. I spent a lovely few hours with one of their guides who was friendly and very informative. It was a great way to get acquainted with the City of Calgary and learn about its history! I would highly recommend this tour for both visitors and residents alike."
"I just wanted to thank you, CalgaryWalks, for the awesome tour! Joanne was super friendly, and informative. I liked how the tour covered a lot of good ground, but it also wasn't too long. I also really appreciate how she took me out, even though it was just me by myself. I'm so glad I went, it was an afternoon well spent!"
"As our friendly CalgaryWalks guide showed us all around the beautiful downtown area, we learned so much about the history and development of this dynamic Western Canadian city. I highly recommend this walking tour to anyone who is planning a visit to Calgary."
"We very much enjoyed our Calgary Walks tour! Our guide paced us well, with plenty of time for photographs, answered all our questions, gave us great tidbits about the history of the city, and included all of the sites we had hoped to see. We recommend this walk as a wonderful introduction to Calgary!"
"Scott was a fantastic guide! He was very knowledgeable about the art and architecture around the city. I had a good feel for street, rail, and park layout after this tour- we covered a lot of ground in 2 hours! I highly recommend taking this tour. It will really enrich your experience in Calgary!"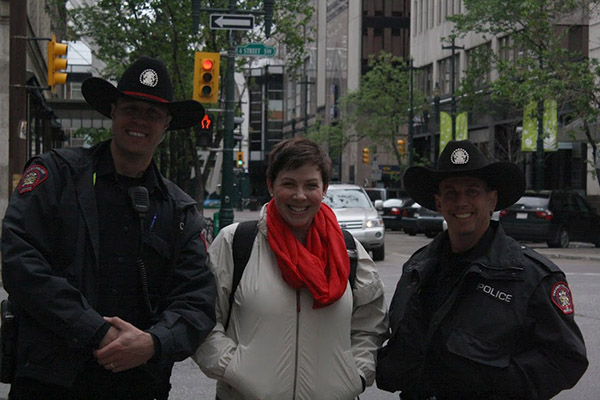 "CalgaryWalks was the perfect introduction to the city – I learned a bit about the history from my brilliant guides, and discovered buildings and areas where I wanted to spend more time.
I wish that EVERY city had similar tours led by such interesting guides!!
Thanks again, Shellie!"